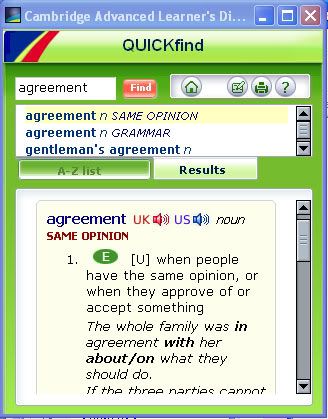 Cambridge Advanced Learner's Dictionary
Unlike version 2.0, version 3.0 does not have strict protection anymore. That is, if not conditional purchase
dictionaries
for the CD, the learner can be found on the network, install and use but no longer have to worry security issues or something more bẻ course. During the installation you should choose to install the Full Installation complete, the hard disk space is about 500MB. With this option, you can access the images to illustrate the questions or examples have pronounced faster than the default settings for the entire media data has been copied onto the hard disk. And you need to install more QuickFind IDM (to be asked during the installation) if you want to use features from the fast while
surfing
the web or read text (QUICKFind).
NOTE:
Experience of the author, the setting is sure to be much less affected by the program manager and kill viruses because the current installation requires access to the highest (Administrator) as well as programs have a module that the viruses will be listed on the "need special attention." So to install the ribs will be, for you do not spare much of the computer, please temporarily disconnect the network if there is temporary and kill off the virus after the installation is complete, they will open up again . For the professional it you know it, please guide the killed virus to allow your program CALD3 implement command set, recorded in the system module and vital changes need to complete the installation.
It features the main highlights as follows:
• Dictionary is a dictionary "spine" of CALD3. The word you see in the paper dictionary will find in here with a speed faster and more convenient. You can see the Figure (if available), voice heard people pronounce
English
with voice and voice America. If there are more examples from the entries will appear Extra button more examples. Click to see more examples. Word Building button more help from as nouns, adjective and verb of the source. More particularly, CALD3 also integrated SMART Thesaurus for many synonyms, if any.
• Advanced Search: advanced search by criteria such as from Part of Speech, Topic topic, ...
• exercises: thousands exercises all help form the self-review in practice, practice with the Exam extract some questions from the exam before the exam as international IELTS, FCE, CAE, CPE and BEC help learners can become familiar with the test information.
• Pictures: collection of images illustrates help learners learn English observation more active, this will create the feeling of excitement when learning English as well as help learners remember more.
• QUICKfind: quickly find the words with a small window while surfing the web or read
text messages
(requires installation QuickFind IDM).
• SUPERwrite: assistant on Writing. This function is also quite interesting, will help you check the spelling and grammar while writing.
• Study Pages: posts instructions attached extra help you learn English more effectively. Request a computer readable format. PDF.
• Options: options established as font size, just read English or American, ...
• My notes for the notes if there is a form of electronic manuals.
• My list: same as the electronic book to learn vocabulary as you want to own.